Profile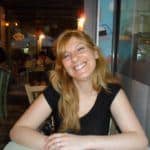 Maria Montefinese
So happy to take part in this new experience! :)
Curriculum Vitae
Education

I studied at University "Gabriele D'Annunzio" Chieti-Pescara (Italy) from 2002 and 2014, where I took all my qualifications.

Qualifications

I have a Bachelor degree in Psychological Sciences and Techniques (2007), a Master degree in Clinical Psychology (2010) and a PhD in Functional Neuroimaging (2014).

Work History

From December 2013 to February 2014, I worked as a visiting PhD student at the Department of Psychology of University of York (UK) to understand how the knowledge of the world around us is organized in patients who had difficulty to comprehend and produce words. From February 2015 to January 2016 I worked at the Department of Neuroscience of University of Padua (Italy) to study which brain areas are involved when we perform two-digit additions and subtractions.

Current Job

Honorary Research Associate at University College London and Independent Post-doc Research Fellow at University of Padova (Italy)

Employer

From October 2016 I'm working at University College London thanks to a European fund. One of my research interests is to understand how the words are organized in our brain. In other words, how the words are related among them and which properties allow their division in categories. Another my interest is to study how our body responds to the false memory. In particular, how the pupil size responds when a person remembers something that never happened.
Favourite thing to do in my job: The thing that I love most of my job is to look at the results of my studies!

About Me: I'm a passionate hunter of knowledge! (I enjoy learning new things! :))

Read more

I live in London since September 2016. My husband (a neuroscientist as well) lives in Italy. I love to practice yoga in the parks and do long walks at the weekends. I'm keen on Harry Potter: I watched all the films and now I'm reading the complete collection! I binge TV series. I watched The Bing Bang Theory so many times! I'm totally hooked! I love to take photos (especially of nature), and I hope I can attend a photography course to improve this skill in the next future! I love cheese (every type of cheese!!!). I really enjoy cooking and put cheese in all my recipes! 😉 I am a volunteer at the Forest Churches Emergency Night Shelter in London. 

My Work: Looking for the meaning of word meaning!

My Typical Day: Is there a typical day for a researcher?

Read more

My morning routine includes: waking up very early (5am) because I really love to feel the quiet in the morning. It energizes myself for the rest of the day! As soon as I wake up I practice meditation for about 10 minutes. It helps me to be more focused on my work for the rest of the day! I practice yoga for about 30 minutes and, then, I study English.

After that, I eat something and have a shower, so to be  ready to start my day at work for the best! I don't have a typical day at work! It depends a lot on the deadlines! My tasks are collecting data, analysing data, meeting students that I'm supervising for their thesis or project, reading a lot of papers to think about an original idea for a new project (I really love this part of my work!), preparing and giving presentations.

When I come back at home, I use to have dinner and watch TV series! Sometimes when the weather is nice I have dinner with my flatemate in the garden!

What I'd do with the prize money: Development of a brochure on the pupil response to false memory and setting up online word games for kids and teenagers.

Read more

I'd like to use the prize money to develop new exciting games using words (like crossword puzzle, find the intruder, game of pairs, etc…) to allow kids and teenagers to learn more about the organization of words in our brain while they enjoy playing! Games will be freely available on my website. Finally, I'd like to produce a brochure to explain how the pupil response to false memory works to make the general public more aware of the many advantages of using it to understand how our brain works!

My Interview

How would you describe yourself in 3 words?

Untiring - Enthusiastic - Dreamer

What or who inspired you to follow your career?

I was inspired by the challenge to unveil the mystery of our mind!

What was your favourite subject at school?

Philosophy

What did you want to be after you left school?

A clinical psychologist.

If you weren't doing this job, what would you choose instead?

A musician.

Who is your favourite singer or band?

Dream Theater.

What's your favourite food?

Parmigiana.

What is the most fun thing you've done?

The dinners with my friends!

If you had 3 wishes for yourself what would they be? - be honest!

1) My greatest wish is to be rembered for my contribution to our world! The second one is to live my life by travelling all the time! My third wish is to find a permanent job!

Tell us a joke.

As long as cocoa beans grow on trees, chocolate is fruit to me.
---
---