Students! Did you do your profile survey? Check your email for a chance to win a £20 voucher and tell us what you think now!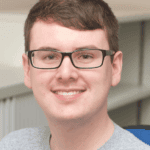 Thanks to all the students that voted for me. I was so surprised that I won the vote, but I am so honored! First, I'd like to thank all members of my family… I'm joking, but I would like to say a massive thanks to all the I'm a Scientist team. It is a big undertaking to run the event and it went so smoothly. Thanks also to my fellow psychologists who were genuinely a delight to get to know over the past few weeks. Then, of course, thanks to you and your teachers for posting your questions and showing your excitement for psychology. Your enthusiasm kept us psychologist on our toes!
Taking part in I'm a Scientist has been so much fun. The chats were so lively, but also so addictive! 30 minutes went by so quickly. They were also so varied; chatting to Year 12 one moment and then moving to Year 6. It took all my ability to ensure I was communicating at the right level and that everyone felt included in the conversations.
The questions were also so varied – from my favorite food (which is anything cheese based, of course), experiences of University, and then being grilled on my research on conspiracy theories. I really hope that the students – you – saw how psychology can be applied in diverse ways to answer real-world questions. Psychology is like a sweetie bag; there are so many different flavors.
If you are reading this as a fellow psychologist or school wondering if you should take part in future events, then it is a big recommendation from me. It was such a busy, but amazingly fun and rewarding 2-weeks. There is nothing like it! I miss it already.
Be sure to keep asking questions – that's what us psychologists do!
Psychologists! If you'd like the chance to win funding for your own public engagement work, apply for the next I'm a Scientist, Get me out of here: imascientist.org.uk/scientist-apply